Cyrkl receives multiple awards at the BIT Travel Exhibition ceremony
24. 2 .2023, Martina Campora
Cyrkl has been awarded with 7 projects from the EU ECO-TANDEM Biz programme dedicated to sustainable tourism

The project
EU ECO-TANDEM Biz programme, subsidised by the European Union, aims to help companies in the tourism sector to improve their sustainability, by funding projects carried out by innovative partners with original and sustainable ideas.
Innovative start-ups can participate to the programme if they are able to bring feasible and ad-hoc sustainability plans for one or more tourist facilities. These plans must present solutions to one of the following sustainability challenges:
Energy efficiency measures
Optimisation of waste management
Protection and management of water resources
Sustainable mobility
Sustainable development of facilities, taking into account the safety of travellers in relation to the Covid-19 pandemic.
EU-ECOTANDEM will support some of the projects carried out by so-called "tandems": the connections between tourism companies and innovative partners, which together will embark on a sustainable path.
The innovative projects were announced on 14th February 2023, at the BIZ Programme award ceremony held at BIT Milan.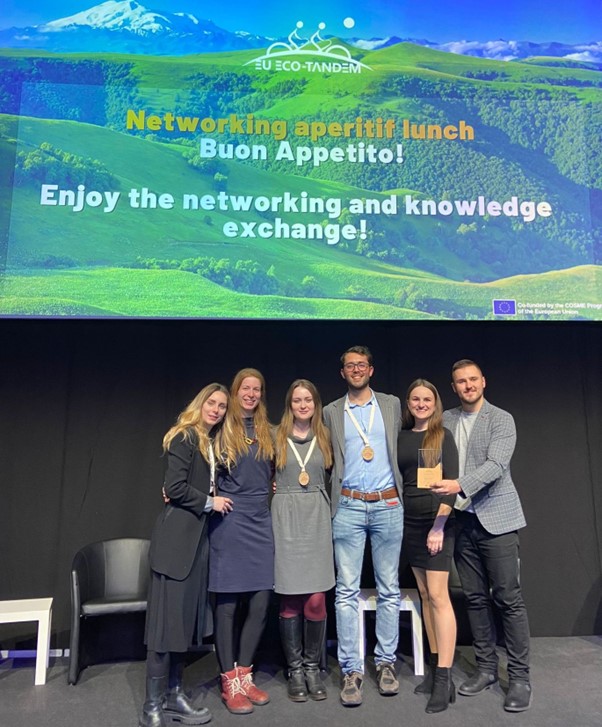 Award ceremony for the Cyrkl team
What will Cyrkl do?
The green-tech start-up focused on waste management and the circular economy was selected as an innovator for 7 approved projects, in which it will help small and medium-sized enterprises (SMEs) in the tourism sector to achieve their sustainability goals, with a focus on waste and carbon footprint reduction.
Three projects will take place in Italy, while four others will be supported and carried out by the Slovakian team.
In Italy, Cyrkl will support two hotels and a travel agency to find innovative and sustainable solutions.
With Marina di Petrolo Hotel & SPA, Cyrkl will find tailor-made solutions for efficient waste collection and management, for the use and the sources of energy implemented, and for the use of recycled and sustainable materials, while calculating the environmental savings of the recommendations offered.
For the Hotel Michelangelo, Cyrkl will carry out a comprehensive consultancy, the so-called Circular Waste Scan, an analysis of the waste streams produced annually, looking for alternative solutions and better uses of this waste from an environmental point of view. At the same time, environmental awareness activities will be carried out for staff and guests.
Finally, they will also collaborate with the travel agency GreenerVibes to create an algorithm with the aim of calculating the different emissions of each service, considering means of transport, experiences, facilities and accommodation.
In Slovakia, the team of waste specialists is also preparing to tackle challenges on multiple levels.
For the national heritage sight Chateau Gbeľany, we will conduct a thorough analysis and a plan for minimizing the amount and better separation of biowaste, mainly focusing on the historical park on the premises.
Effective waste separation and management are common challenges for accommodation facilities that require both technical processes and the education of employees and clients. Cyrkl experts will design a waste separation system proposal and training sessions for employees at a popular resort in Slovakia, Šport Hotel Donovaly, to address both aspects.
A travel agency Elegance Travel from Banská Bystrica has also partnered with Cyrkl to focus on reducing CO2-eq emissions generated by travel and their office activities. Cyrkl will determine a calculation for travel emissions and analyze eco-friendly alternatives for office supplies and products.
City Penzión Košice aims to achieve ambitious sustainability goals, starting with optimizing waste management and reducing the waste production. Together with Cyrkl, they plan to introduce composting and efficient waste separation, focusing on reducing packaging waste.
‐ Martina Campora
Share article: